Why Do Employees Leave?
When employees quit their jobs, they usually fall into one of two categories: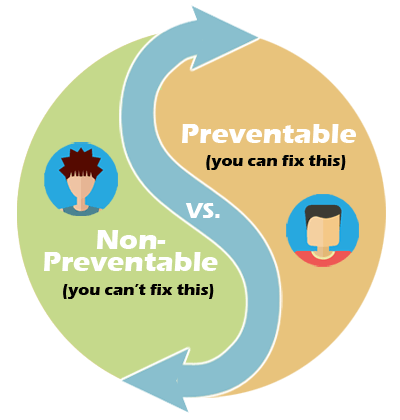 Preventable Exits
This is the turnover you should be worried about because these employees didn't have to leave.
These departures are costing your organization real money.
Non-Preventable Exits
These employees usually leave for personal reasons, family reponsibilities or other changes in their lives that you cannot control.
Why Use InsightExit for Employee Exit Surveys?
Until you know what drives turnover at your organization, you can't know how to fix it. Guessing won't help. InsightEXIT clearly defines the proportion of preventable and non-preventable exits and, even more critically, the reasons behind your preventable turnover.
Call us at
1-866-802-8095 x705
or email
info@insightlink.com
for more information.
Most Recent 4Cs Blog Posts
We are committed to sharing our knowledge and experience with you. Keep up with the latest news and trends in employee engagement
here
.
How Your Office Space Can Aid Employee Motivation and Engagement
Monday, September 9, 2019
---
Improving Employee Engagement for Remote Workers
Wednesday, September 4, 2019
---
Designing an Employee Friendly Workplace
Monday, August 12, 2019
---
How A Solid Succession Plan Is Critical To Retaining Top Talent
Monday, August 5, 2019
---
How Smart Cities Around the World Impact Workplace Trends
Monday, July 29, 2019
---
How to Use Benefits to Attract Top Millennial Talent
Wednesday, July 10, 2019
---
How Remote Workers Are Helping to Save The Planet
Friday, July 5, 2019
---

Why Choose Insightlink?
As a recognized leader among employee survey providers since 2001, Insightlink knows that a strong engaged workforce plays a vital role in protecting your company's profitability.

U.S. companies lose billions of dollars each year due to high levels of employee turnover. Yours doesn't have to be one of them.

Unhappy employees impact your organization's productivity, customer service performance and ultimately, your bottom line. So when you choose from employee survey vendors, experience and expertise are equally important and Insightlink gives you both.

Join the hundreds of other companies who have decreased employee turnover and improved retention by using the InsightEXIT method.

Other Services

If you have additional questions about our services, please contact us.



Insightlink Communications Inc.

Experts in the design, collection and analysis of employee exit surveys and other survey tools for HR managers.

777 E. Tahquitz Canyon Way Ste 200-175

Palm Springs

CA

,

92262

United States

[

MAP

]

Toll Free: 866.802.8095